---
Presentation
---
A 70-year-old Indian man presented with a 2-day history of dysphagia, vomiting, and nasal regurgitation. He had a history of gradually progressive slowness of activities and slurring of speech over the past 2 years. The patient also had frequent episodes of falls while walking.
---
There was no history of seizures, limb weakness, diplopia, facial asymmetry, tremulousness, hallucinations, forgetfulness, or urinary incontinence.
---
Examination findings revealed slurred speech, conjugate vertical palsy, slowness of horizontal saccades, bradykinesia, and generalized hyper-reflexia. Glabellar tap was positive and the blink rate was 8–10/min. There were no tremors, cog-wheel rigidity, or autonomic features.
---
MRI Scan Image
---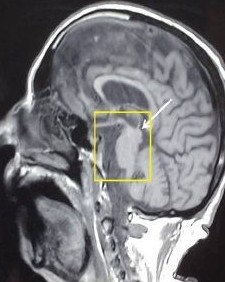 ---
What is your diagnosis?
---
A. Oligodendroglioma
B. Pituitary adenoma
C. Progressive supranuclear palsy
D. Brain abscess
---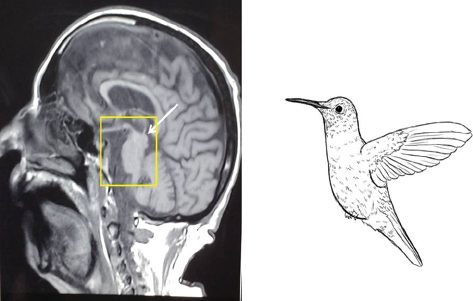 ---
In shorts
---
PSP has a prevalence of 5–10/100 000 persons. The mean age at onset is 65 years. Patients die after an average of 8 years, often as a result of aspiration.
Demonstration of the 'Humming bird sign' and the 'Mickey Mouse sign' on MRI brain is very sensitive in establishing the diagnosis of PSP.
The 'Humming bird sign' is otherwise known as the 'Penguin sign'.
In view of the increased lateral concavity of the midbrain tegmentum, the 'Mickey mouse sign' is often called the 'Morning glory sign'
---