---
Alder-Reilly bodies –
---
Alder-Reilly anomaly is seen in – mucopolysaccharidoses.
Most characteristic finding – metachromatic granules surrounded by a clear zone seen in lymphocytes.
Dense granules [like toxic granulation in neutrophils] – seen in all leukocytes.
Granulocytes show metachromatic and darkly staining inclusions containing partially digested mucopolysaccharides
Inherited abnormality of white blood cells associated with mucopolysaccharidosis
Alder–Reilly inclusions – appear violet when treated with Wright–Giemsa stain
Affected white blood cells function normally
Granules Shape – round or comma-shaped
Granules surrounded by a clearing in the cytoplasm – granules appear to be within small vacuoles.
---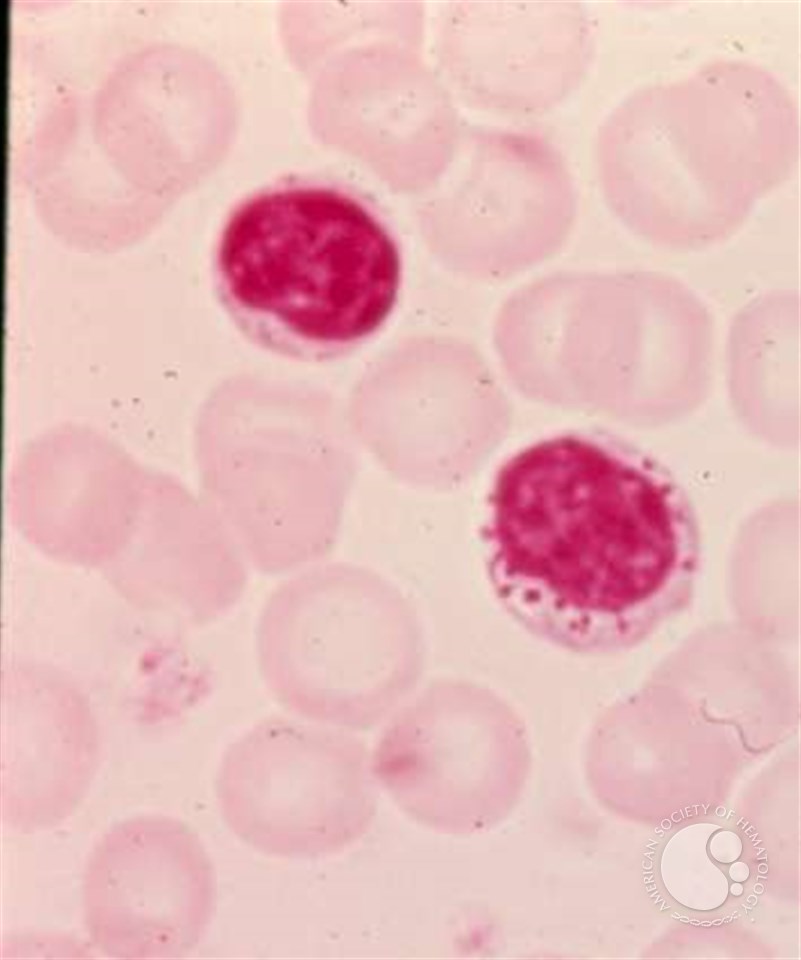 Alder-Reilly bodies
Most characteristic finding is the metachromatic granules surrounded by a clear zone seen in lymphocytes.

NOTICE –
Cytoplasmic metachromatic granules, which appear to be within small vacuoles.

Author: Teaching collection Vicky Smith
https://imagebank.hematology.org/
---
View Image
Figure 1: (a) Prominent dark staining and coarse cytoplasmic granules in polymorphonuclear neutrophil similar to toxic granules but larger and coarser. Wright–Giemsa stain 1000.

(b) A lymphocyte from the same patient remarkable for the presence of many cytoplasmic metachromatic granules, which appea…
---